Dentures in Peoria, AZ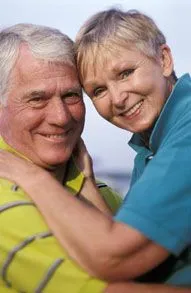 These days, there is no reason why someone should have to deal with gaps in their smile due to tooth loss. There are so many amazing tooth replacement options out there. Of course, maybe you're concerned about the cost and you want something within your budget, or you just want to regain a full smile quickly and you don't want to wait months. If so, you may just want to talk to our Peoria and Glendale, AZ dentist Dr. Yati Yadav about dentures.
How do Dentures Work?
Dentures are dental prosthetics designed to replace most or all of your teeth. The two most common types of dentures are partial and complete. You can probably figure by the name alone which type you would need if you are dealing with total tooth loss or you still have some natural teeth remaining. Dentures can be either fixed in place or removable (but held in place with clasps that attach to healthy neighboring teeth).
What are the Benefits of Dentures?
Dentures offer a wide range of benefits, which is why they still remain one of the most popular ways to replace missing teeth. Some of the benefits of dentures include,
They offer a cost-effective and budget-friendly way to replace multiple missing teeth and restore your smile
They restore your confidence and improve your appearance by giving you a full set of teeth again
You'll be able to enjoy your favorite foods and chew with confidence
You will also feel more confident speaking to those around you without worrying about any changes in speech that may have occurred as a result of your tooth loss
You'll get your dentures fairly quickly, compared to other treatment options (if you need to have a tooth extracted you'll get your dentures within 6-8 weeks after the extraction)
You don't need to undergo surgery in order to get or fit your new set of teeth
We utilize only the highest quality materials to craft dentures that are lifelike and truly look just like real teeth
Can Dental Implants Support My Dentures?
Perhaps you've been wearing your dentures for a while and you're thinking about upgrading. It is possible to get implant-supported dentures. Instead of dentures being held in place through dental crowns or clasps, implants are placed into the jawbone so dentures can be securely attached to the top of them. No adhesives and no clasps.
Implant-supported dentures are a great option for someone who has a strong, healthy jawbone that can support implants. If you're interested in this tooth replacement option, talk with our Peoria and Glendale AZ dentist to learn more.
If you are interested in what dentures can offer your smile, our Peoria and Glendale, AZ family dentist Dr. Yadav would be happy to sit down with you to discuss. Call Your Family Dentist, PC today to schedule a consultation.
For more information on Dentures in the Peoria or Glendale, AZ area or to schedule a consultation, call Your Family Dentist, PC at (623) 878-3300 today!