Posts for tag: braces
By Your Family Dentist, PC
February 02, 2017
Would you like to improve your smile but aren't sure if orthodontic treatment can help? Dr. Yati Yadav, your Peoria and Glendale, AZ,
dentist at Your Family Dentist, PC, discusses the issues that braces can correct.
Too much/too little space
Orthodontic treatment is every effective in closing gaps between teeth and realigning teeth that have become crooked due to crowding.
Shifting teeth
Wondering what happened to your perfect smile? Grinding or clenching your teeth, gum disease, tooth loss and aging can cause your teeth to shift. Braces offer a simple way to realign your teeth and restore your smile.
Overbites and underbites
Overbites occur when your upper teeth protrude too far over your lower teeth, while underbites happen because your lower teeth extend too far. Both conditions respond very well to orthodontic treatment.
Open bite
Do all of your upper teeth make contact with your lower teeth when you eat? If they don't, you have an open bite, a dental condition that can be easily corrected with braces.
Crossbite
When alignment issues affect both your upper and lower teeth, you have a crossbite. Although you may worry that your issues are so severe that nothing will help, orthodontic treatment can make a dramatic difference in your smile and bite.
Braces do more than improve your appearance
Many people undergo orthodontic treatment because they don't like the way their teeth look. Although braces definitely improve your appearance, they also offer several other important benefits. If your teeth don't come together properly when you bite or chew, you may damage your other teeth or experience enamel erosion, gum disease and even lacerations in your mouth.
A bad bite can also cause jaw stiffness and headaches and increase your risk of developing temporomandibular joint disorder (TMJ), a painful condition that affects the bones, ligaments and tendons in your jaw joints. In some cases, orthodontic issues may be so severe that it's difficult to chew or speak clearly. Orthodontic treatment in Peoria and Glendale addresses the source of your issues while also improving your appearance.
Would you like to find out if orthodontic treatment is a good option for you? Call Dr. Yadav, your Peoria and Glendale, AZ, dentist at Your Family Dentist, PC, at (623) 878-3300 to schedule your appointment.
By Your Family Dentist, PC
July 23, 2015
Find out how braces could greatly improve the look of your smile.
While we all want to be lucky enough to have perfectly straight teeth the majority of people have some type of malocclusion or smile
issue that keeps them from having that straight smile. Luckily your Peoria dentists Dr. Yati Yadav, DDS, FAGD, FICOI, and Dr. Ben Koolick, DDS, at Your Family Dentist, PC offer several different orthodontic options. Find out more about braces, and how they can finally get you the smile you want.
Traditional Braces
These are the braces that often come to mind when thinking about orthodontic treatment. While these may look like the braces you remember from childhood, they have certainly been revamped over the years. Sure you still have to wear the brackets and wires, but they are more comfortable, sleeker and thinner, which makes them significantly less bulky than the older versions. Even with other orthodontic options out there, metal braces still remain the most common form of treatment.
Clear Braces
For patients who have complex issues to fix that would benefit most from wearing traditional braces, there is also now a less visible alternative. Instead of metal brackets and wires, you can get ceramic braces, which come in different shades to mimic the color of your teeth. Keep in mind that you'll need to be a very diligent brusher and flosser to keep these braces from staining.
Lingual Braces
Another option for those looking to hide their braces from the outside world is lingual braces. While they may look just like traditional metal braces, your Peoria dentist will adhere them to the back of your teeth rather than the front. This makes it nearly impossible for others to see your braces. Lingual braces can offer a discrete way to straighten your smile, but they're not for everyone. Those with certain malocclusions may not be right for these braces. Talk to your Peoria dentist to learn more.
Clear, Removable Aligners
You've probably heard about Invisalign, the clear series of aligners that straight teeth nearly invisibly. These aligners are great for teens and adults looking to fix mild to moderate dental issues, including crookedness, overcrowding, gaps between teeth, and malocclusions. Some adults can even get a straighter smile in a single year with Invisalign.
Ready to find out if braces are the best treatment option for you? Then schedule a consultation with your Peoria dentists at Your Family Dentist, PC and let's get you one step closer to the perfect smile.
By Your Family Dentist, PC
December 18, 2011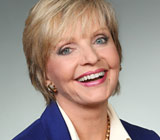 Florence Henderson has inspired generations of people through her portrayal of America's most beloved TV mother, Carol Brady, on one of the longest running situational comedies, The Brady Brunch. Today Florence is still a role model but for a much different audience: senior citizens.
Henderson created the FloH Club as an organization to assist senior citizens with understanding and embracing technology, as she described in an interview with Dear Doctor magazine. "I was inspired to create the FloH Club because of my own fear of technology and because I didn't want to keep asking my children for help," she said.
And while Henderson was blessed with naturally straight teeth and has had no cosmetic work done, she is not opposed to it. "I wouldn't care how old I was, if I had misaligned teeth or felt I needed cosmetic dentistry I would certainly do it!"
One teeth-straightening option many adults consider is clear orthodontic aligners. They are an excellent way for self-conscious adults to align their teeth without feeling that they will appear as an awkward "brace-faced" youth — a look that is commonplace for the teenage years.
But what are clear aligners? They are an alternative system to traditional braces that use a sequence of individual, custom-fitted trays that are clear and removable to gradually straighten teeth. They are usually recommended for correcting mild to moderate spacing problems or crowding of the teeth, and for cases in which there are no major issues with your bite (i.e., your back teeth fit together properly and biting forces are distributed evenly on all of your teeth).
To learn more about this method of aligning teeth, you can continue reading the Dear Doctor magazine article "Clear Orthodontic Aligners." Or you can contact us today to schedule an appointment so that we can conduct a thorough examination and discuss what treatment options will be best for you. And to read the entire interview with Florence Henderson, please see the Dear Doctor article "Florence Henderson."