Posts for tag: bad breath
By Your Family Dentist, PC
August 12, 2020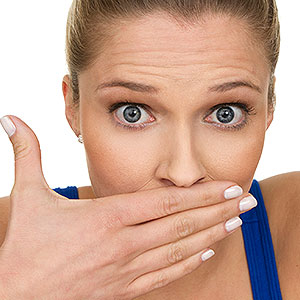 When they weren't building pyramids or wrapping mummies, the ancient Egyptians mixed herbs and spices with a little honey to make small lozenges. Their purpose: to fight halitosis, that perennial scourge of polite society. More specifically, they were the first known breath mints.
Just like our ancient forebears, we're still trying to stop bad breath—to the tune of $12 billion annually for breath-freshening products. For the most part, though, fresher breath is still largely the byproduct of dedicated oral care. In recognition of National Fresh Breath Day this August 6th, here are 4 simple things you can do to help eliminate embarrassing bad breath.
Remove dental plaque. Mouth bacteria proliferating within a thin buildup of food particles is called dental plaque—the main culprit in 85—90% of bad breath cases. These bacteria can emit volatile sulfur compounds (VSCs), which have a characteristic rotten egg smell. You can reduce bacteria and their foul odors by removing plaque with daily brushing and flossing and twice-a-year dental cleanings.
Boost your saliva. An inadequate flow of saliva, often a side effect of certain medications, can leave your mouth dry and susceptible to bacterial growth and subsequent bad breath. You can increase saliva flow by drinking more water, using saliva-boosting aids, or speaking with your doctor about alternative medications with less of a dry mouth side effect.
Brush your tongue. Some people find their tongue is "Velcro" for tiny food particles, which attract bacteria. It's always a good idea to brush your tongue (especially toward the back) to loosen and remove any clinging food particles. If it continues to be a problem, you can also employ a tongue scraper for a more thorough tongue cleaning.
Get a checkup. Although bacterial growth from inadequate hygiene is the usual cause for bad breath, it isn't the only one. Dental diseases like tooth decay or gum disease can also create unpleasant mouth odors, as well as serious conditions like diabetes, kidney infections or certain cancers. If your bad breath persists despite diligent hygiene, see us or your doctor for a more comprehensive exam.
During our long war with halitosis, we've learned a thing or two about its causes. We've also learned that practicing good oral habits is the best thing you can do to beat bad breath.
If you would like more information about controlling bad breath, please contact us or schedule a consultation. To learn more, read the Dear Doctor magazine article "Bad Breath: More Than Just Embarrassing."
By Your Family Dentist, PC
February 29, 2016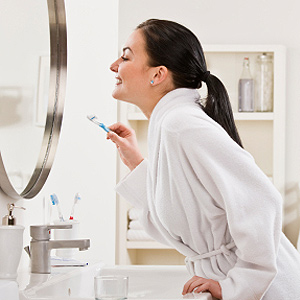 We all experience the occasional bout of bad breath from dry mouth or after eating certain foods. Chronic halitosis, on the other hand, could have an underlying health cause like periodontal (gum) disease, sinus infections or even systemic illnesses like diabetes. Anyone with persistent halitosis should undergo a thorough examination to determine the root cause.
If such an examination rules out a more serious cause, it's then possible the particular population of bacteria that inhabit your mouth (out of a possible 600 or more strains) and your body's response makes you more susceptible to halitosis. After feeding on food remnants, dead skin cells or post-nasal drip, certain types of bacteria excrete volatile sulfur compounds (VSCs) that give off an odor similar to "rotten eggs."
In this case, we want to reduce the bacterial population through plaque removal, which in turn reduces the levels of VSCs. Our approach then is effective oral hygiene and perhaps a few cleanings — the basics every person should practice for good oral health — along with a few extra measures specific to chronic halitosis.
This calls for brushing and flossing your teeth daily. This will remove much of the plaque, the main breeding and feeding ground for bacteria, that has accumulated over the preceding twenty-four hours. In some cases, we may also recommend the use of an interproximal brush that is more adept in removing plaque clinging to areas between the teeth.
You may also need to pay special attention in cleaning another oral structure contributing to your bad breath — your tongue. The back of the tongue in particular is a "hideout" for bacteria: relatively dry and poorly cleansed because of its convoluted microscopic structure, bacteria often thrive undisturbed under a continually-forming tongue coating. Simply brushing the tongue may not be enough — you may also need to use a tongue scraper, a dental device that removes this coating. (For more information, see the Dear Doctor article, "Tongue Scraping.")
Last but not least, visit our office for cleanings and checkups at least twice a year. Professional cleanings remove bacterial plaque and calculus (hardened plaque deposits) you're unable to reach and remove with daily hygiene measures. Following this and the other steps described above will go a long way toward eliminating your bad breath, as well as enhancing your total oral health.
If you would like more information on treating chronic bad breath, please contact us or schedule an appointment for a consultation. You can also learn more about this topic by reading the Dear Doctor magazine article "Bad Breath: More Than Just Embarrassing."
By Your Family Dentist, PC
October 30, 2011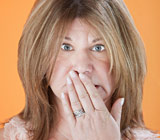 Having someone tell you that you have bad breath can be humiliating, but it can also be a sign that you need to see your dentist. Bad breath (or halitosis) can be a sign of an underlying dental or health problem, so before you run out and stock up on breath mints, make an appointment with our office. Using breath fresheners will only disguise the problem and not treat the root cause.
It's important to remember that if you have bad breath, you're not alone — it's the third most common reason people seek a dental consult. We use a systematic approach to determine the cause of your halitosis and offer a solution.
Causes: Ninety percent of mouth odors come from mouth itself — either from the food you eat or bacteria that may be present. Most unpleasant odors originate from proteins trapped in the mouth that are processed by oral bacteria. When left on the tongue, these bacteria can cause an unpleasant smell. Dry mouth, sinus problems, diet and poor oral hygiene can also cause bad breath. In rare cases, a medical condition may be the cause.
Treatment: The best solution will depend on determining the real cause of your halitosis. If bad breath emanates from the mouth, it most commonly is caused by gum disease or even tooth decay, which need to be treated to correct the problem. If halitosis is of systemic (general body) origin, a more detailed examination might be needed from a physician. But the solution may also be as simple as demonstrating how to effectively remove bacterial plaque from your teeth, or offer instruction on proper tongue cleaning. If the cause is gum disease, we may suggest a deep cleaning and possible antibiotic therapy.
Contact us today to schedule an appointment to discuss any questions you may have regarding bad breath. Read more about this topic in the Dear Doctor magazine article "Bad Breath: More Than Just Embarrassing."