Posts for tag: orthodontics
By Your Family Dentist, PC
March 03, 2012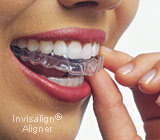 For adults with a reasonably well fitting bite, but mild to moderate crowding or spaces between your teeth, clear orthodontic aligners can be an ideal solution for straightening your teeth. This is why we offer this treatment option to our patients experiencing these issues. However, for those of you who are unfamiliar with what they are or how they work, this will give you a brief understanding.
Clear orthodontic aligners consist of a series of clear "trays" that fit snuggly over all teeth to slowly shift them into alignment. Patients are typically required to wear them 20 hours per day for about 2 weeks before progressing to the next tray. With each new tray, you are one step closer to achieving your goal of perfectly aligned teeth. The entire process usually lasts 6-18 months depending on how much movement is required to achieve the goals.
Each aligner is individually made from very precise molds of the patient's teeth to ensure proper fit. And we map out the entire alignment process using computer generation from each patient's initial molds so that we can identify the number of trays required. But best of all, clear orthodontic aligners are perfectly smooth with no rough edges like traditional braces, and you can remove them for eating, brushing, and flossing teeth as well as for brief social events.
To learn more about this topic, read the article "Clear Orthodontic Aligners." Or you can contact us today to discuss your questions or to schedule an appointment.
By Your Family Dentist, PC
December 18, 2011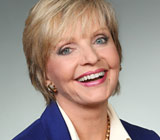 Florence Henderson has inspired generations of people through her portrayal of America's most beloved TV mother, Carol Brady, on one of the longest running situational comedies, The Brady Brunch. Today Florence is still a role model but for a much different audience: senior citizens.
Henderson created the FloH Club as an organization to assist senior citizens with understanding and embracing technology, as she described in an interview with Dear Doctor magazine. "I was inspired to create the FloH Club because of my own fear of technology and because I didn't want to keep asking my children for help," she said.
And while Henderson was blessed with naturally straight teeth and has had no cosmetic work done, she is not opposed to it. "I wouldn't care how old I was, if I had misaligned teeth or felt I needed cosmetic dentistry I would certainly do it!"
One teeth-straightening option many adults consider is clear orthodontic aligners. They are an excellent way for self-conscious adults to align their teeth without feeling that they will appear as an awkward "brace-faced" youth — a look that is commonplace for the teenage years.
But what are clear aligners? They are an alternative system to traditional braces that use a sequence of individual, custom-fitted trays that are clear and removable to gradually straighten teeth. They are usually recommended for correcting mild to moderate spacing problems or crowding of the teeth, and for cases in which there are no major issues with your bite (i.e., your back teeth fit together properly and biting forces are distributed evenly on all of your teeth).
To learn more about this method of aligning teeth, you can continue reading the Dear Doctor magazine article "Clear Orthodontic Aligners." Or you can contact us today to schedule an appointment so that we can conduct a thorough examination and discuss what treatment options will be best for you. And to read the entire interview with Florence Henderson, please see the Dear Doctor article "Florence Henderson."