Posts for tag: clear aligners
By Your Family Dentist, PC
July 21, 2016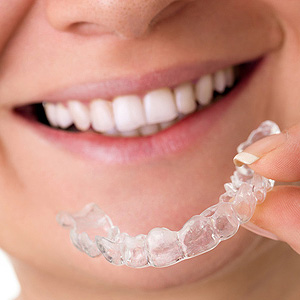 Wearing braces isn't just for teenagers — straightening teeth can be just as viable a need when you're an adult. For example, it may be necessary to first move teeth away from an empty tooth socket before you obtain a dental implant or other restoration.
But braces could have complications, especially if you have periodontal (gum) disease. These infections caused by plaque, a thin film of bacteria and food particles, inflame and weaken gum tissues and erode supporting bone. It can be treated and brought under control — but keeping it under control requires daily brushing and flossing, along with frequent office cleanings and checkups.
Braces can make this more difficult: it's harder to brush and floss effectively through the hardware of brackets and wires, which can give plaque a chance to build up. Patients susceptible to gum disease are more likely to have re-infections while wearing braces. The hardware can also cause enamel to come in prolonged contact with acid, which can dissolve its mineral content and open the door to tooth decay.
Clear aligners are an alternative to braces that can accomplish tooth movement while minimizing infection flare-ups for people with gum disease. Aligners are a series of customized clear plastic trays worn over the teeth, with each succeeding tray incrementally moving the teeth further than the preceding one. After wearing one tray for a specified time period, you then switch to the next tray. The teeth gradually move to the desired new position over the course of the aligner series.
This option is especially advantageous for gum disease patients because the trays can be removed temporarily for brushing and flossing. There are also other benefits: we can hide a missing tooth space with a temporary false tooth attached to the aligner; and, they're nearly invisible so it won't be obvious to others you're undergoing orthodontic treatment.
Not all orthodontic situations benefit from this alternative, while some cases may call for a combination approach between aligners and braces. But in the right setting, clear aligners are a good choice for not only obtaining better teeth position, but also helping you avoid a new encounter with dental disease.
If you would like more information on orthodontic treatments for adult teeth, please contact us or schedule an appointment for a consultation.
By Your Family Dentist, PC
August 01, 2013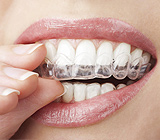 It used to be that the only option for straightening a teenager's teeth involved lots of shiny hardware. Besides the esthetic downside, traditional orthodontic devices (braces) can interfere with the enjoyment of certain favorite foods, irritate the inside of the mouth, trap food particles (potentially another esthetic embarrassment and sustenance for cavity-causing bacteria), and complicate dental hygiene routines.
These aren't causes for concern with clear orthodontic aligners, however, which consist of a series of transparent plastic, removable trays that fit over the teeth and gradually move them into better positioning. About every two weeks, the teen proceeds to the next aligner in the progression (or set of aligners if treatment involves both the upper and lower teeth) until the improved alignment goal is reached. The trays are meant to be worn 22 hours a day, but they can be removed for eating, brushing and flossing, and, on a limited basis, special occasions.
Thanks to relatively recent developments in the design of clear aligner systems, teens who previously were not considered good candidates for this modality may now have this option available to them. This includes:
Teens whose second molars (the last to come in except for wisdom teeth) haven't fully emerged. Aligners now come with "eruption tabs" that serve as place-holders for teeth that are still growing into position.
Teens with severely rotated teeth requiring complicated movement. Tooth-colored attachments called "buttons" can be temporarily bonded onto teeth to provide additional leverage, and elastics (rubber bands) can also be used to promote movement.
Compliance is always a concern with any orthodontic treatment — whether it be gum chewing with traditional braces or wearing clear aligners for the requisite period of time each day. Aligners now come with built-in colored "compliance indicators" that fade with use over time. This makes it possible for orthodontists, dentists, parents and teens alike to monitor both compliance and treatment progress.
If you would like more information about clear orthodontic aligners please contact us or schedule an appointment for a consultation. You can also learn more about this topic by reading the Dear Doctor magazine article "Clear Aligners for Teens."
By Your Family Dentist, PC
December 18, 2011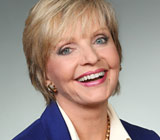 Florence Henderson has inspired generations of people through her portrayal of America's most beloved TV mother, Carol Brady, on one of the longest running situational comedies, The Brady Brunch. Today Florence is still a role model but for a much different audience: senior citizens.
Henderson created the FloH Club as an organization to assist senior citizens with understanding and embracing technology, as she described in an interview with Dear Doctor magazine. "I was inspired to create the FloH Club because of my own fear of technology and because I didn't want to keep asking my children for help," she said.
And while Henderson was blessed with naturally straight teeth and has had no cosmetic work done, she is not opposed to it. "I wouldn't care how old I was, if I had misaligned teeth or felt I needed cosmetic dentistry I would certainly do it!"
One teeth-straightening option many adults consider is clear orthodontic aligners. They are an excellent way for self-conscious adults to align their teeth without feeling that they will appear as an awkward "brace-faced" youth — a look that is commonplace for the teenage years.
But what are clear aligners? They are an alternative system to traditional braces that use a sequence of individual, custom-fitted trays that are clear and removable to gradually straighten teeth. They are usually recommended for correcting mild to moderate spacing problems or crowding of the teeth, and for cases in which there are no major issues with your bite (i.e., your back teeth fit together properly and biting forces are distributed evenly on all of your teeth).
To learn more about this method of aligning teeth, you can continue reading the Dear Doctor magazine article "Clear Orthodontic Aligners." Or you can contact us today to schedule an appointment so that we can conduct a thorough examination and discuss what treatment options will be best for you. And to read the entire interview with Florence Henderson, please see the Dear Doctor article "Florence Henderson."