Call Today (623) 878-3300
8390 West Cactus Road #110
Peoria, AZ 85381
Posts for tag: veneers
By Your Family Dentist, PC
December 11, 2011
Even with good dental hygiene and care, your teeth may show signs of wear as you age. Fortunately, we now have ways to treat these symptoms of aging and restore a youthful look and function to your teeth and jaws.
How Do Teeth Wear?
All the tissues in your body are constantly in a process of breaking down (catabolism) and rebuilding (anabolism). During childhood the anabolic processes exceed the catabolic processes. But after you have reached physical maturity the balance changes and the breakdown process begins to draw ahead of the building up. The result: signs of wear.
In your teeth, the outer layer, the enamel, is a hard, mineralized substance that is resistant to wear. Under the enamel is a layer called dentin, which is a living tissue something like bone. As teeth age, the dentin layer thickens, causing teeth to lose some of their whiteness. Most wear to your teeth comes from the pressure of the upper and lower teeth's biting surfaces against each other. How much wear occurs depends on your bite or occlusion (how the teeth are aligned, and how they meet) and the ways in which you use your teeth.
Constant interactions between the biting surfaces of your teeth result in removal of small amounts of enamel. Your body naturally compensates for this wearing away of material. As teeth wear, they erupt from your jaws by tiny amounts, moving slightly up or down to stay in the proper occlusal relation with the teeth on the other jaw. They also slowly move toward the front of your mouth.
If the wear becomes excessive, your body can no longer compensate for it. At this point you may find that your bite relationships are not working correctly, and the lower third of your face loses height. This creates or accentuates an older appearance.
Some people clench or grind their teeth, applying greater than normal — and damaging — forces to their teeth. This problem, often a reaction to stress, is called bruxism. It can cause a number of problems from jaw pain to loose teeth or excessive wear or tooth fractures. If you suffer from excessive wear due to bruxism, a professionally made mouthguard may prevent further damage.
Modern Dentistry Can Restore a Youthful Look
Modern dentistry can successfully restore the normal shape, appearance and function of worn teeth by installing porcelain crowns or veneers. These not only replace the tooth structure lost through wear, but they also restore the bite relationship. Crowns on excessively worn teeth can dramatically improve tooth color and facial appearance, resulting in a more harmonious, younger look.
Contact us today to schedule an appointment to discuss your questions about dental wear and aging. You can also learn more by reading the Dear Doctor magazine article "How and Why Teeth Wear."
By Your Family Dentist, PC
October 23, 2011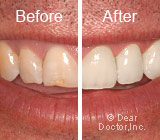 If you are unhappy with your smile or the way some of your teeth appear, porcelain veneers may be the solution to your concerns. They are a fast, effective, and well-proven method for cosmetically enhancing your smile — and a secret that Hollywood and other celebrities have been taking advantage of for years. To help you determine if they are right for you, here are some questions we typically receive.
What is a veneer?
A veneer is a custom made thin "shell" or thin layer of a dental ceramic material (usually porcelain) used to replace the front, visible surface of the tooth. They are artistically and hand-crafted using a precise model of your mouth and teeth to achieve a natural look.
What can they do for me?
Veneers are the optimal choice for correcting small to medium gaps between teeth; slight rotations of teeth causing them to be misaligned; oddly shaped, chipped, or "short" teeth; as well as teeth that are discolored or unevenly colored. However, veneers have their limitations, too. They cannot correct bite issues, poor tooth position, or profile issues. It is also important to note that if you have this procedure, we will typically need to remove a small amount of enamel from your teeth to accommodate the veneer and produce dramatic improvements to your smile.
How long will they last?
While they can vary widely from person to person, porcelain veneers usually last from 7 to 20 years. Factors that impact this timeline include your oral hygiene habits, diet, lifestyle, as well as how well you protect your veneers during sleep and while playing sports.
Have more questions?
Contact us today to discuss your questions or to schedule an appointment. You can also learn more about veneers by reading the Dear Doctor article, "Smile Design Enhanced With Porcelain Veneers."
By Your Family Dentist, PC
October 09, 2011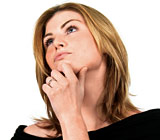 Are you are considering a cosmetic procedure such as porcelain veneers? To assist you in making this decision, we developed the following list of questions you should consider asking before getting porcelain veneers.
Am I a good candidate for porcelain veneers?
Can you show me examples of your work?
How much will my veneers cost?
Will my insurance cover any portion of my procedure?
Do you offer any financing for my procedure or can you make any recommendations for financing?
Can you create a computer-generated image or mock-up of what my new smile will look like?
How will you chose what color to make my veneers?
How long will it take from my initial consultation until I receive my final, permanent veneers?
How much tooth reduction (drilling) will you need to do before placing my veneers?
How do veneers attach to my teeth?
Can you create a prototype or temporary veneers so that I can "test drive" my new smile before my permanent ones are made?
What do I need to do to clean and protect my veneers?
How long can I expect my veneers to last?
If at some point in the future I decide I want my veneers removed, what can I expect?
We hope that the above questions help you obtain all the answers you need as you consider getting porcelain veneers. If you have other questions, concerns, or if you are ready to take the next step and schedule a consultation, please contact our office.