Call Today (623) 878-3300
8390 West Cactus Road #110
Peoria, AZ 85381
Posts for tag: root canal
By Your Family Dentist, PC
February 16, 2012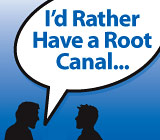 Hearing the news that you need a root canal often causes anxiety for most people given all the bad press this procedure has received (e.g., "I'd rather have a root canal than..."). However, the truth is that root canal treatment relieves pain; it doesn't cause it. And it is typically highly successful. The real pain occurs for most people when decay is left untreated or the nerve in a tooth under a very large filling becomes infected and dies.
For these reasons, we have put together the following list of questions you should consider asking prior to having a root canal or endodontic ("endo" – inside: "dontic" – tooth) treatment.
Am I a good candidate for root canal treatment?
Does it hurt to have a root canal?
What can I expect if I do not have a root canal treatment?
Are there any other treatment options for me given my situation? If so, what are they?
Do you do root canal treatment or should I see a specialist?
How long will the entire process take from my first appointment until my root canal treatment has healed?
Will the pain I am in immediately subside after a root canal or will it take some time?
Will I need or receive any type of sedation while having the treatment?
Are there any risks associated with root canal treatment? If so, what are they?
How long can I expect my natural tooth to last after root canal treatment?
What could happen to cause a root canal to require a second treatment?
How much will my root canal cost?
Will my insurance cover all or a portion of the cost?
Will the tooth be as strong after root canal treatment, or will it need a crown?
Will there be any special maintenance required on an ongoing basis after I have a root canal?
To learn more about root canals, continue reading the Dear Doctor article, "I'd Rather Have A Root Canal." Or if you feel you may need a root canal or other dental procedure, contact us today to schedule a consultation.
By Your Family Dentist, PC
October 16, 2011
Root canal, or endodontic ("endo" – inside; "dont" – tooth) treatment, is often wrongly perceived as a highly unpleasant experience and one that causes tremendous pain. However, the truth is that the procedure actually relieves the pain being caused by an infected and inflamed tooth pulp (inside of the tooth). Advances in dentistry have made treatment virtually pain free and it can be completed relatively quickly, usually in a single visit. Left untreated, infection can spread into the bone immediately around the tooth's root, so prompt attention is the best course of action.
If the term "root canal" still sends shivers down your spine, don't despair. Here is some information that should help put your mind at ease.
Root canal treatment is necessary when deep decay or trauma has caused the inside (pulp) of the tooth to become inflamed or infected. Symptoms of infection can include sharp pain when biting down, lingering pain after consuming very hot or cold foods, a dull ache and feeling of pressure near the infected tooth, and tender gum tissue surrounding the infected tooth.
After a local anesthetic is administered to numb the infected tooth and its surrounding area, we will make a small opening on the chewing surface of the tooth. This will allow us to remove dead and dying tissue from the pulp and to then clean and disinfect the root canals. Using small instruments, we will shape the canals and seal them with biocompatible filling materials.
You may feel slight tenderness at the treated site for a few days, but this is quite manageable and can be relieved with over-the-counter (OTC) non-steroidal, anti-inflammatory pain relievers such as aspirin or ibuprofen. You should refrain from chewing on the treated tooth until your follow-up appointment. A crown or other restoration may be needed to protect the tooth and restore it to full function.
If you think you might be a candidate for a root canal treatment, schedule an appointment as soon as possible. If you would like to learn more about the process of root canal treatment, please read the Dear Doctor magazine article "Common Concerns About Root Canal Treatment."