Call Today (623) 878-3300
8390 West Cactus Road #110
Peoria, AZ 85381
Posts for tag: dental injuries
By Your Family Dentist, PC
December 04, 2011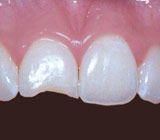 Damaging the crown of a tooth (the part of the tooth that is visible above the gums) is the most common type of dental injury. The tooth may be broken or chipped. It is good to be prepared by knowing how such cases should be treated.
What is the first thing to do if my tooth is chipped or broken?
If fragments broke off the tooth, try to find and save them. They can probably be reattached to the tooth by bonding.
Does a chipped or broken tooth hurt?
The tooth may be sensitive to touch, hot and cold. Depending on the type of injury and how much of the tooth's inner surface is exposed, there may also be pain.
How long can I wait before getting treatment?
Get treatment right away, within 12 hours if possible. Teeth with crown fractures can be treated within 12 hours without affecting long-term outcomes.
What types of treatment may be used?
The treatment recommended depends on the tooth and the type and severity of the injury. Exposure of a tooth's inner pulp can be treated by a pulpotomy (partial pulp removal) technique. Front teeth can be temporarily restored with special cements, or the original tooth fragments may be reattached by bonding. Composite resin bonding may be used to restore the tooth's original appearance and function. Composites can be made in a wide range of tooth colors and can match the original tooth almost exactly.
Is treatment different if the damaged tooth is a primary (baby) tooth?
Chipped or broken primary teeth are generally treated similarly to permanent teeth. The treatment depends on the extent of the injury and damage to the tooth. Treatment of fractured primary teeth also depends on the proximity of the injured tooth to the permanent tooth beneath it, which will ultimately replace it. If a fractured primary tooth cannot be saved, it may be removed.
What if my tooth is loosened but not broken?
If the tooth is loosened but not cracked, broken or chipped, no dental treatment may be required. However, we will collect baseline clinical and x-ray information and keep an eye on the tooth or teeth in the future. We will need to check the tooth during recall visits to see whether the dental pulp is still living or whether it has died as a result of its injury. The latter condition can lead to a variety of problems and will require treatment.
Contact us today to schedule an appointment to discuss your questions about repairing a chipped tooth. You can also learn more by reading the Dear Doctor magazine article "The Field-Side Guide to Dental Injuries."
By Your Family Dentist, PC
September 11, 2011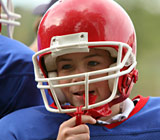 One question we are most often asked by parents of athletes or those who participate in physical sports is, "Do mouthguards really work?" And when we respond, "yes," a common follow-up question is, "Is there any scientific evidence to support this claim?" Based on this scenario, we feel it is important to provide you with some interesting and evidence-based facts on this topic.
The first reported use of mouthguards was in the sport of boxing. And because participants and bystanders in the 1920s quickly witnessed their effectiveness even back then, the trend's popularity grew to the point that boxing became the first professional sport to require them. However, other sports soon started following this lead — especially those high-contact sports. The American Dental Association (ADA) started mandating the use of mouthguards for football in 1962 and the US National Collegiate Athletic Association (NCAA) currently requires mouthguards for football, ice hockey, lacrosse and field hockey. The ADA has since expanded their recommendations to now include 29 different sports and exercise activities. So now that you know more about the professional organizations pushing the use of mouthguards, let's get back to the second question, "What's the evidence?"
There have been numerous studies over the years regarding the properties of mouthguards, and more specifically their shock absorbing capabilities. Other studies have been based upon their protective abilities due to their stiffness, hardness and strength. This research has enabled us to vastly improve upon the effectiveness of mouthguards. For example, years ago latex rubber was a popular material used to create mouthguards. However, today we use products such as ethylene vinyl acetate or polyurethane because they are far superior in durability and flexibility. And impact studies have shown that the chances of fracturing teeth is dramatically reduced when wearing one of these mouthguards...especially when compared to individuals wearing no mouthguard at all. In fact, research has revealed that by not wearing a mouthguard during physical sports or exercise, individuals are 60 times more likely to experience an injury to the mouth and/or teeth.
To learn more about the importance of protective mouthguards, continue reading the Dear Doctor magazine article "Athletic Mouthguards." Or you can contact us today to schedule an appointment to discuss your questions about mouthguards.